<!– myParagraphType:
, myParagraphCount: 37 –>
click to enlarge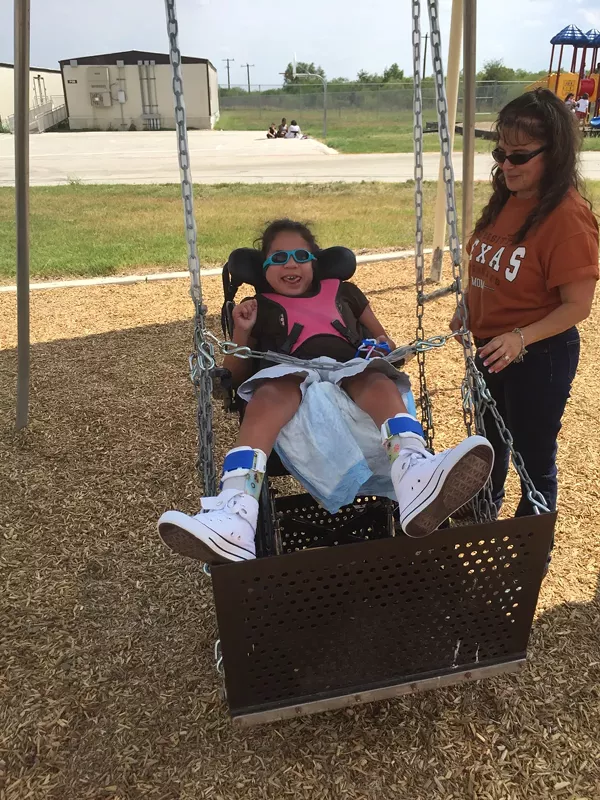 Ten-year-old Alice Dorne can't tell her grandmother Roberta whether she's hurting, feeling good or needs to use the bathroom.
Alice is paraplegic. She's legally blind. She has cerebral palsy, chronic lung problems, sleep apnea, spasticity and cannot urinate on her own. Alice suffers from seizures and is intellectually impaired.
However, that doesn't mean there haven't been bright spots in her development.
"She has made it to where she can verbalize with different kinds of vocal sounds, like yelling to let me know if it's good or bad," Roberta said. "She's making a lot of progress. [Her speech therapist is] getting her to be able to say words like momma and poppa."
Despite the obvious obstacles, Alice is doing better than her grandmother ever expected. That's because of the intense speech, occupational and physical therapy the child has received multiple times each week for the past eight years, all of which has been paid for through Medicaid. 
"When I got her she was three and she looked like a 3-month-old baby," Roberta said. "Now she looks like a 10-year-old." The grandmother adds: "If we hadn't done what we did, she would have died."
However, Roberta, who is retired, does not have enough income to pay for all of this. And because of that — and Alice's disability — the 10-year-old is eligible for Texas Medicaid funding that pays for the visits fr0m home-therapy providers that help Alice improve her quality of life.
Alice is just one of thousands of Texas children who are eligible to pay for speech, occupational and physical therapy services offered by home-therapy providers through Texas' Medicaid program. And that's all set to change on July 15, when the Texas Health and Human Services Commission will begin cutting $350 million in funding to speech, occupational and physical therapy services — $150 million from Texas' budget, resulting in a loss of $200 million in federal Medicaid funding. 
Speech therapy helps Alice learn to push air out of her mouth and lungs to communicate. The therapist teaches her with musical instruments, which builds the muscles in her jaws and power in her airway. The therapy has taught Alice the relationship between pushing air and making sounds.
"If she does get something out, she massages her vocal cords to help make sounds," Roberta said.
Occupational therapy has also helped her build mobility. Her therapist works on her hands, building dexterity so she can hold objects. This also makes it easier for her grandmother to move her around. Physical therapy provides her more mobility and reduces tightness in her hips and legs.
"She has a gate trainer, which is like a walker. It let's her move around and feel more human, you know, so [the therapist works on that]," Roberta said.
click to enlarge
Roberta Dorne | Courtesy
Roberta Dorne and her granddaughter Alice.
As of now, Roberta and Alice are in limbo. Roberta doesn't know exactly how the cuts will effect Alice's services.
"I haven't been told," Roberta explained. "They should notify me if I'm going to [lose the funding], I would hope."
Roberta's not the only one who doesn't know. Providers in San Antonio say they still have no idea just how drastic the cuts will be.
Greg Mazick, owner of National Nursing Rehab, Alice's provider, said that from looking at the state's proposal, it appears the rates could be cut as much as by 26 percent.
"It's really hard to say concretely what the rates will be," Mazick said. "It's very speculative."
Because of that uncertainty, Jason Sanchez, chief financial officer for Restorative Health Care, says his company doesn't want to speculate to clients what the impact will be.
"We haven't shared the changes with our patient populations," Sanchez said. "We don't know what they are going to be."
However, Jimi Ellis, CEO of Circle of Care, says he thinks about 1,600 of his clients may be effected by the cuts. On average, Circle of Care's 210 therapists see an average of 2,500 patients a week.
"If you have a child that needs these treatments and you're not indigent, then you have no problem. We can come see you and your insurance company is going to pay for it and everything works out smoothly," Ellis said. "If you are indigent … your child is the one who is going to be penalized."
Aside from the immediate problem of families using Medicaid to pay for speech, occupational and physical therapy services for kids with disabilities, there is what Ellis calls an "upstream" effect.
"Then, of course, you look at a number of these children that we treat have autism, or are somewhere on the autism spectrum, and we find they make huge strides and do well upstream," Ellis explained. "And then the state is going to incur more costs to care for these kids later in life.
Angela Peña, administrator for Special Kids Care, echoed Ellis' sentiments, saying she expects the cuts will create a cost shift onto school districts who will have provide therapy for kids like Alice.
Those developmental concerns aren't limited to the home-health provider industry.
On June 23, Democrats in the Texas House of Representatives, 50 in all, signed a letter written to Andy Slavitt, acting administrator of the Centers for Medicare and Medicaid Services, telling him that rate cuts over 20 percent will have devastating impacts on children receiving speech, occupational and physical therapy services via home-health providers.
"It is our understanding that the Texas Health and Human Services Commission will submit a State Plan Amendment to the Centers for Medicare and Medicaid Services (CMS) as soon as June 27th to implement the proposed rate reductions," the letter states. "We urge CMS to expeditiously review the State Plan Amendment to ensure that the proposed rate reductions do not restrict access to medically necessary therapy services, regardless of the setting, type of therapy, or whether the therapy service is provided in a managed care or fee for service model."
By June 28, more legislators have lobbied Slavitt, including 14 Republicans. A total of 75 Lone Star State politicians have asked CMS to consider delaying the cuts for further study, the Texas Tribune reported. 
Enrique Marquez, a spokesman for the Texas Health and Human Services Commission, told the Texas Tribune that the state's payment rates need federal approval before implementation.
The response is a last-ditch effort to stave off the drastic cuts.
In August 2015, providers and relatives of kids with disabilities who receive Medicaid funding for speech, occupational and physical therapy sued the Texas Health and Human Services Commission. The lawsuit was filed weeks before the cuts were set to take effect and a Travis County judge issued a temporary injunction, stalling the rate changes. But in April, an appeals court reversed that decision, giving the state a green light to go ahead with the rate reductions, leaving disabled children, their families and providers in limbo while they wait to find out whether Texas will implement the full 26 percent rate reduction or whether it will land somewhere in between.
For Peña, the administrator at Special Kids Care, this is especially frustrating — especially since Texas has $7 billion in a rainy day fund.
"Texas should never balance the budget on the backs of children and that's what we're doing," Peña said, exasperated, referring to children like Alice.
If the child's grandmother, Roberta, loses access to therapy care for Alice through Medicaid, she doesn't know what she'll do.
"[Alice] wouldn't be as mobile. She would probably get more medication for her spasticity," Roberta said. "And she wouldn't be able to communicate with me what's wrong."
Much of Alice's improvements, which was possible through years of speech, occupational and physical therapy services paid for through Texas Medicaid would start to unravel.
"That's going to hurt her tremendously," Roberta said.
Disabled Children, Providers Wait in Limbo As Medicaid Cuts Loom