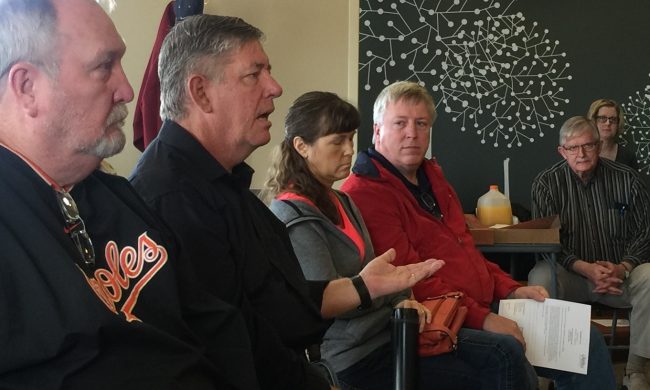 Photo: SARH CEO and President, Ed Smith, seeking answers on proposed cuts to Medicaid benefits at Saturday's Carroll Chamber of Commerce Legislative Forum.
President and CEO of St. Anthony Regional Hospital, Ed Smith, wanted some answers from state legislators, House Representative Brian Best and Senator Mark Segebart, about issues that have arisen with the management and payments for Medicare and Medicaid insurance. Gov. Terry Branstad is proposing to make cuts to Medicaid providers that will also impact the federal match.
Smith explained in more detail that some patients have Medicare as their primary insurance, but Medicaid will pick up the deductibles and co-insurance portions. What Gov. Branstad is proposing is to do away with the Medicaid portion, which will in most instances, become bad debt for the provider. Segebart said Smith is right in saying this can't be justified, but answers are not forthcoming.
Segebart added they have tried to enact a penalty on the Managed Care Organizations (MCOs) of 1.5 percent for their late payments to providers, but have not been able to get any traction with getting it implemented. Smith said his understanding is that the administrative expense for overseeing Medicaid has risen with the changeover to MCO management.
Best responded that he would be open to a conversation about returning to an in-house management of the Medicaid program, but he was not aware that cuts were going to be made in the supplemental or secondary insurance market with the Medicaid. He said he will be looking into that issue further.
Iowa Legislators Asked To Look Into Medicaid/Medicare Proposed Changes – 1380 KCIM