On Wednesday July 12 around 40 people gathered at the University of Georgia Arch at the Rally for Callie, standing in solidarity with Athens' developmentally disabled and special needs community while also protesting the Senate's proposed Medicaid cuts in the Better Care Reconciliation Act of 2017, also known as H.R. 1628.
Callie Moore suffers from cerebral palsy and is unable to speak or walk. Protesters gathered in support of Moore and her mother Pam Walley, as well as others who may have trouble affording and accessing adequate health care.
Moore has been in the hospital for several days after suffering from a broken femur, a break that occurred while she was lifted from her bed. Jill Gambill, a friend of Moore, decided to put together the rally
"Callie and Pam have really been protesting and speaking out about the importance of Medicaid," Gambill said. "I felt like maybe we as a community could help get the message out since she's still in ICU."
Protesters held signs with phrases written on them such as "No cuts! No caps!," "No Medicaid, no future!" and "Support our kids!".
Gambill began the rally by first thanking everyone for attending and explaining the order of events for the rally.
"None of us here are experienced advocates," Gambill said. "This is my first time doing this, and quite a few of us have anxiety about public speaking, but this issue is so personal for most of us here."

+1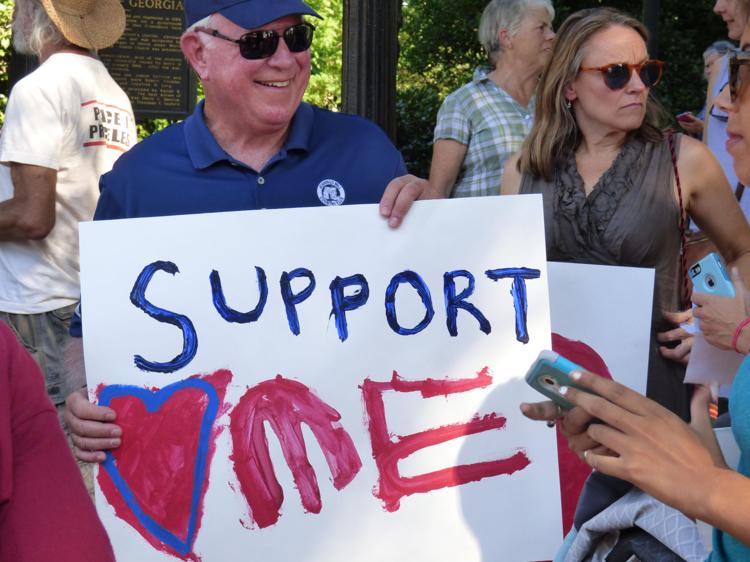 One of Moore's nurses, Lori Cain, said she thinks it is important for people with disabilities to have access to the care, and she hopes good things will come from the rally as well as Callie's injury.
"Medicaid is very important for Callie to continue to live a full and successful life in her community," Cain said. "Callie is a fashionista. She's not able to speak or walk, but her mental faculties are very much like yours and mine and she loves to do things."
According to the Congressional Budget Office, a non-partisan analysis agency for the U.S. Congress, the proposed Senate bill would increase the number of people who are uninsured in the country by 22 million By 2026. This would raise the total number of uninsured people in the United States to around 49 million.
Cain said Moore's life would be drastically different without Medicaid as "half the things in her life" would be cut, including her at-home nursing care.
"If the proposed Medicaid cuts happen, all these people with disabilities, it's going to cut their funding, and it's going to be back to institutionalization," Cain said. "My personal reason to be here today is because I care for Callie so much and I can't imagine her living any other life than the one she lives."
Many parents with children who may be impacted by the potential Medicaid cuts spoke to the crowd about the concerns they have with the bill, and specific ways in which the changes would alter their lives.
Joan Baird, an Athens local and UGA alumnus, said she feels Medicaid is necessary for children with disabilities, like her daughter Hannah Baird, to be able to thrive and shine in the community.
"The insurance would cover 40 therapy sessions in her lifetime, and Hannah was needing three to four sessions a week," Joann Baird said. "Early intervention is crucial. We want our kids to have dignity."
Hannah Baird, who has Down syndrome as well as type one Diabetes, spoke to the crowd about the dreams she has for her life.
"My dream is to get married to someone special and I want to be a professional singer," Hannah Baird said.
This is the second protest of the Senate's health care bill seen at the Arch in the last month, following a previous rally hosted by Athens for Everyone and Protect Our Care Georgia on June 26.
Rally for Callie: Athenians protest medicaid cuts at the Arch