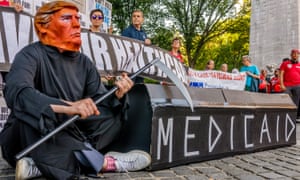 The Guardian interviewed people from across the country who have relied on the coverage for life-saving assistance and what could happen if they lose it
On Thursday, Senate Republicans unveiled legislation that would satisfy a long-held campaign promise: the repeal of the Affordable Care Act (ACA). The plan would also achieve another GOP priority: deep cuts to Medicaid, a program that covers the healthcare needs of nearly one in five Americans.
Medicaid is the nation's largest public insurance program, providing health benefits to nearly 74 million Americans including low-income adults and children, seniors and people with disabilities. It has unparalleled reach: about half of all babies are born on Medicaid and four in 10 children are covered by Medicaid or its sister benefit, the Children's Health Insurance Program.
Those programs also cover roughly three in 10 people suffering from opioid addiction. Medicaid has also become a critical benefit for elderly Americans whose medical needs are not covered by Medicare, including six in 10 residents in nursing homes.
Donald Trump has said he supports the Republican-led ACA repeal. If it passes into law, he will break a pledge he made as a candidate to protect Medicaid from spending cuts.
The Senate healthcare plan, like the House bill that narrowly passed last month, would phase out Medicaid expansion under the ACA, under which 31 states and the District of Columbia added more than 11 million low-income adults to the program.
It would also restructure the program, giving states the option to convert Medicaid into a "block grant" program or to impose a cap on federal spending based on the number of enrollees.
An analysis by the nonpartisan Congressional Budget Office estimated that under the House bill, such changes would cut Medicaid spending by $834bn over 10 years, and lead to 23 million fewer people having insurance coverage.
The Guardian interviewed people from across the country who rely or have relied on Medicaid for, in their words, life-saving assistance. Though the full impact of the cuts to Medicaid as proposed under the Republican plan are not yet known, the prospect of losing this program has such Americans worried. Here are their stories.
Natalie Weaver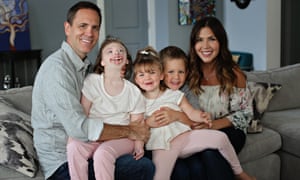 Natalie Weaver lives in Cornelius, North Carolina. Her daughter Sophia was born with Rett syndrome and a number of other conditions that have left her unable to walk, talk or take care of herself. Only eight years old, Sophia has had 21 surgeries and countless hospital visits. Raising her at home requires hospital-style equipment and nursing assistance, items that the family's private insurance does not cover.
Through Medicaid's Home and Community Based Services, Sophia is eligible for secondary insurance that covers a large percentage of the cost of her care at home. Weaver worries that the cuts to Medicaid would put such optional programs at risk.
"Without the financial assistance we will fight, of course, and pay what we have to until we go into bankruptcy and can no longer pay," Weaver said. "But then we'll be forced to make a decision whether to institutionalize our daughter just to keep her alive."
The fight to save Medicaid and to protect funding for medically fragile children such as her daughter has taken Natalie Weaver to Raleigh and then to Washington, where she spoke at a press conference with Democratic senators.
"I know that one day I will lose her to one of her conditions," she said in her speech. "My heart will be absolutely shattered when that day comes, but if I lose my sweet Sophia because our government decided that her life wasn't important enough to protect, that, that will destroy me."
Joanna Robinson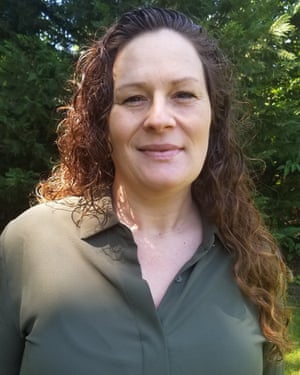 For years, Joanna Robinson of Toms River, New Jersey, battled addiction and untreated mental illness. More than once a court ordered her to enter drug rehabilitation. A few years ago, she went to the local emergency room after experiencing a complication with a needle. At the hospital, she remembers a woman helped her enroll for Medicaid under the ACA's expansion. A year later, she entered rehab: for the first time, by choice.
At the beginning of her recovery, the costs were staggering. Without Medicaid, Robinson said, she could not have paid them. A single shot of her medication cost more than $1,000. She also could not have afforded therapy needed to manage her depression and bipolar disorder. Robinson, who has three young children, credits the program with putting her on a path to recovery – and keeping her sober.
At a town hall recently, Robinson confronted her congressman, Tom MacArthur, a Republican who played a crucial role in passing the House healthcare bill, and asked why he supported legislation that undermined Medicaid, which covers 2.5 million people with opioid addiction. MacArthur, she said, assured her the bill would not hurt that effort – but she remains unconvinced.
"Right now I'm in recovery but I never know when the day is that I'm going to relapse," Robinson said. "It could happen. It could never happen. But without the health benefits I wouldn't be able to go to my therapy or pay for the medication when I need it. Without help, the stress of [deciding] 'can I afford therapy and pay my rent or pay for Pampers for the baby?' could cause a relapse."
James St Jacques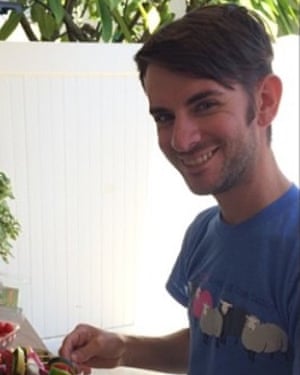 James St Jacques, of Walton, New York, spent a week lying unconscious in a hospital bed after falling down and hitting his head. He didn't have insurance, and when he woke the hospital encouraged him to leave as soon as possible.
Before leaving, a patient advocate helped him sign up for Medicaid, which he said paid for all of his costs while in the hospital.
"I didn't have an extra $45,000," St Jacques said. "That was two or three times what I was making at the time. Without [the patient advocate], I really didn't know how I was going to do."
Since gaining insurance, St Jacques discovered that he has asthma and a heart condition. For years, he assumed his shortness of breath was the result being "not very athletic" and that his high heart rate was caused by the humidity or spicy food. St Jacques said the possibility of losing access to these health benefits, which includes coverage for an inhaler and daily medication, keeps him awake at night.
"It's so unfathomable that people who don't know anything about me are going to make such a big decision about my life," St Jacques said of the Republicans in Congress.
"If they're going to pass this – I want them to come to and explain to me why they're sentencing me to death. I want them to explain to me why their life is worth more than mine because they're not taking away their healthcare, they're taking away mine."
Joe Merlino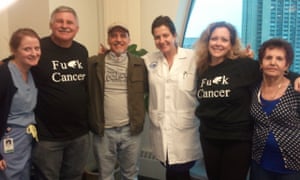 Joe Merlino had a good job in Las Vegas that provided health insurance and benefits. Diagnosed in 2011 with a rare cancer of the voice box, or larynx, his private insurance helped. But it wasn't enough.
Merlino was told repeatedly that he would have to have his voice box removed. For more than a year, he searched until he found a doctor in Boston who thought she could save larynx. It was a complex and expensive surgery. His employer-based insurance covered the majority of the operation, but he required follow-up surgeries, procedures and tests.
After several months, Merlino reached the limit of his company's sick leave policy and lost his insurance coverage. He was already paying for the cost of his travel, and without a full salary he could not afford the remainder of his medical expenses.
Under the ACA's Medicaid expansion, which Nevada approved in 2014, he qualified for coverage under the program. Merlino was told that had he applied two months prior, he would have been rejected. Through Medicaid and then later through insurance he purchased on the ACA exchange, Merlino recovered. He was able to return to work in 2016. He has insurance through his employer and is grateful for the ACA rule that bars insurance companies from placing a lifetime cap on benefits.
"My story is so many other people's story," Merlino said. "This new bill they've come out out with, it targets poor people and you never know when you were going to be that poor person.
"I didn't know. I had a very good job and suddenly I was making below the poverty level. You never know when you're going to become that person with a pre-existing condition without the ACA rules."
Priscilla Spence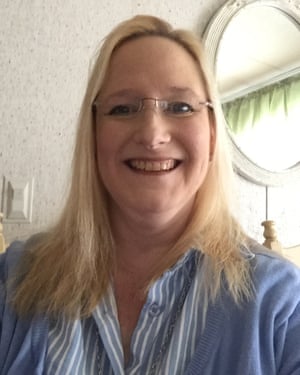 Priscilla Spence likes to joke that she is a 53-year-old with the body of a 195-year-old. Spence, who lives in Lavalette, West Virginia, has several health complications, among them rheumatoid arthritis that flares up often and causes debilitating pain. Alone, she raises her daughter, Micha, who has cerebral palsy, scoliosis and a serious seizure condition.
Medicaid has been a "godsend" for their family, Spence said. Under the program, Micha's insurance allows her to attend a rehabilitation center during the day, where she can socialize with other adults who have long-term disabilities while Spence works.
Spence said her employer offers health insurance, but Spence said she could not afford the deductibles. Even with Medicaid, every month is a renewed struggle to pay bills and put food on the table.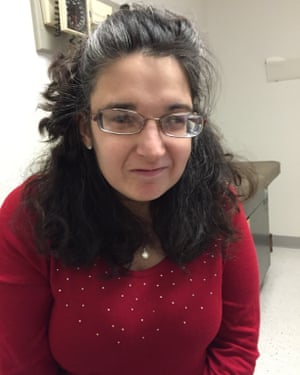 Since the election, Spence has been actively engaged in the healthcare debate. She has urged West Virginia senators Joe Manchin, a Democrat, and Shelley Moore Capito, a Republican, not to repeal the ACA and continues to fight the Republican effort to dismantle it, which she said was an attack on America's working poor.
"I'm terrified for myself because I could possibly die without access to my doctors and medications," Spence said. "My daughter could die from her seizures. What's going to happen to us?"
Cyndi Johnson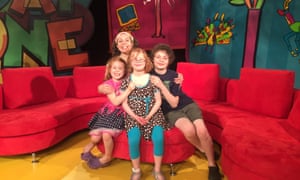 Nine years ago, Cyndi Johnson, of Bloomington, Indiana, was standing at the mailbox with her 11-month-old daughter cradled in her arms and tears streaming down her face. A bill for her daughter's heart surgery had arrived. It was for $64,000 – more than her husband made in a year – and she realized that was only the first. There would be many more.
Her daughter was born with Down's syndrome and several other conditions. Though her familywas covered by her husband's insurer, there were many expenses that the insurance didn't cover, including speciality medical equipment, high-tier medications and out-of-network specialists.
Costs began to spiral and the family took on debt to pay for their daughter's care. They were nearing the lifetime cap on medical expenses under the family insurance plan. Her daughter had not yet turned five.
Johnson grew up in generational poverty, and worked hard so she could provide a different life for her family. She felt that lifestyle slipping away.
"I would have sold my house, my car, everything I owned to help my daughter be well," Johnson said. She didn't have to.
In 2010, the ACA prohibited insurers from imposing lifetime bans, giving the Johnson family peace of mind. They didn't have to worry about maxing out their health insurance. In 2015, Cyndi's daughter became eligible for a Medicaid waiver in Indiana. The secondary insurance covers most of the costs Johnson's family had been paying out of pocket. They were finally able to begin digging out medical debt.
"The ACA saved us," Cyndi said. "It literally saved us."
'They're sentencing me to death': Medicaid recipients on the Republican healthcare plan