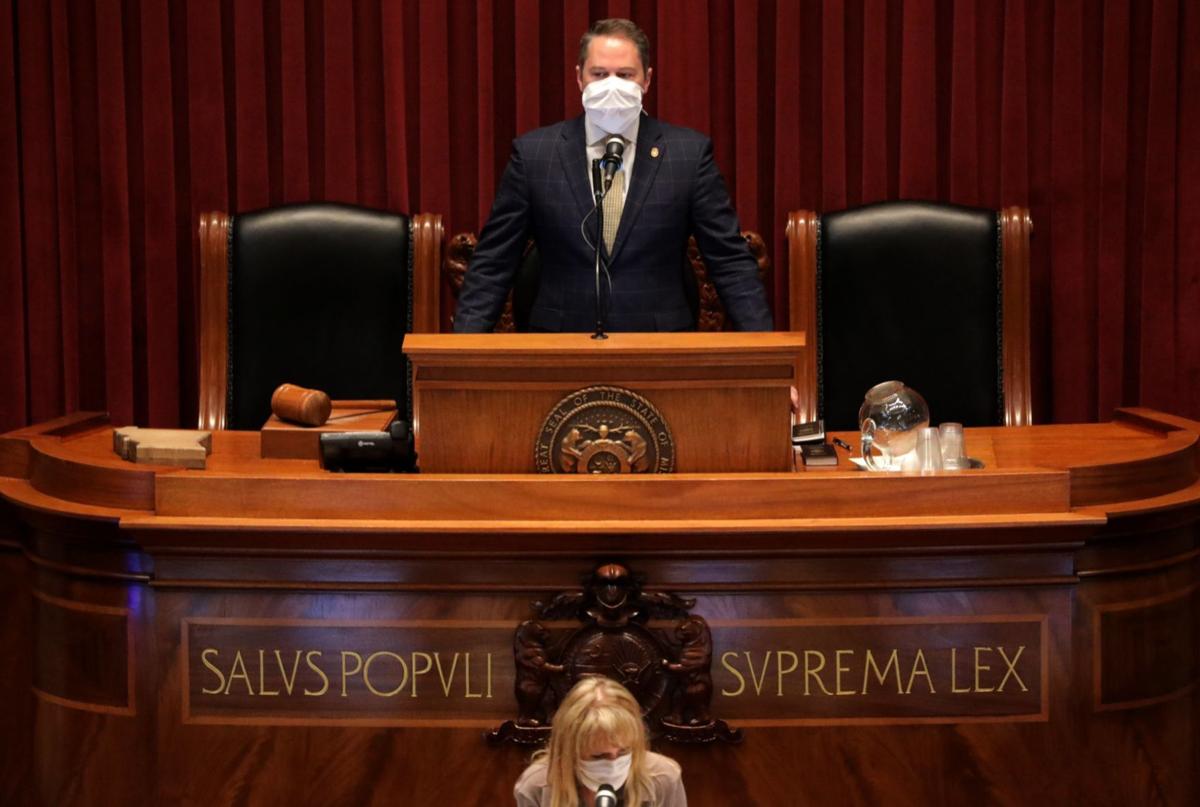 JEFFERSON CITY — Republicans who control Missouri's Legislature are rushing to get a question on the November ballot asking voters if they want to require Medicaid recipients to work.
Under resolutions pending in both the House and Senate, people covered by the government-funded health insurance program who are "able-bodied" and between the ages of 19 and 64 would have to work, attend school, search for a job or volunteer for at least 80 hours a month.
In a House committee Monday, Democrats said the proposed referendum is designed to undermine efforts to expand Medicaid in Missouri, which also is expected to be on the November ballot.
Rep. Peter Merideth, D-St. Louis, called the idea an "unneeded bureaucracy" that would serve as a barrier to enrollment and cost added money to administer.
Plus, he said, "We're doing this in the midst of a pandemic."
After missing six weeks due to the spread of the coronavirus, lawmakers are scrambling to complete their work in the final week of their annual legislative session.
The Missouri Budget Project estimates it will cost the state $215 million annually to oversee the work requirements.
Of those, the analysis noted that an estimated 65% would likely fail to comply and would lose their coverage.
Amy Blouin, president of Missouri Budget Project, said lawmakers should be focusing on how to protect the health of Missourians, not adding "red tape" to the health insurance system.
"Unemployment is heading towards 20%," said Blouin. "This legislation would cut off access to life-saving health care to anyone who can't find work right now, and that's a lot of their own constituents."
Rep. Cody Smith, a Neosho Republican who is sponsoring the legislation, said his plan would only affect recipients who are added to the rolls if Medicaid expansion is approved.
"I think this is a good first step in the right direction to make our program better," Smith said.
The measure was sent to the full House for consideration on a party line 25-10 vote.
Efforts to require Medicaid recipients to work have stalled in the Legislature for the past three sessions.
And, federal judges have ruled against similar plans in other states.
In January, a federal appeals court rejected an appeal of a case involving Medicaid benefits in Arkansas.
The ruling said the U.S. Department of Health and Human Services' stated objectives in approving Arkansas' plan — making people healthier and more independent — were not consistent with the statutory goal of Medicaid.
"The text of the statute includes one primary purpose, which is providing health-care coverage without any restriction geared to healthy outcomes, financial independence or transition to commercial coverage," the unanimous ruling noted.
Some states have abandoned work requirements, which require low-income adults to work or seek work for 80 hours per month.
Kentucky, for example, dropped its work requirement in December after voters elected a Democratic governor and booted out Republican Gov. Matt Bevin. Maine stopped its program in January.
Daily updates on the latest news in the St. Louis business community.
As clocks ticks down, Missouri Republicans push for Medicaid work requirements – STLtoday.com