California is set to extend health insurance benefits to some adult immigrants living in the U.S. illegally.
Democrats in the state legislature reportedly agreed to the measure on Sunday as part of a broader plan on how California will spend $213 billion of state and federal tax money over the next year.
The budget plan still needs approval by the full state Legislature before it can officially be enacted. Under California law, lawmakers must sign onto a budget before midnight on June 15.
If the plan is approved, it could see as many as 90,000 low-income undocumented immigrants between the ages of 19 and 25 become eligible for the program, according to The Associated Press.
California Governor Gavin Newsom is reportedly prepared to spend as much as $98 million a year on the program, the news agency reported.
Under the budget agreement, California is also set to become the first state to offer aid to middle-class families with monthly health insurance premiums, with a family of four with combined earnings of more than $150,000 being eligible to receive around $100 a month for the government to go towards monthly health insurance premium bills.
In addition, the agreement is set to make California the first state to offer aid to middle-class families with their monthly health insurance premiums. Under the agreement, a family of four earning more than $150,000 would be eligible to receive about $100 a month from the government for their monthly health insurance premium bills, AP reported.
To help fund the program changes, California would reportedly tax residents who do not currently pay for health insurance. This would bring back an individual mandate penalty originally included in the federal health care bill signed into law by former President Barack Obama, which Republican lawmakers eliminated during an overhaul of the tax law in 2017.
The state Assembly was also considering a bill seeking to cover all immigrants living in California without papers over the age of 19, but Newsom has suggested that the estimated $3.4 billion cost of that plan is not realistic.
"There's 3.4 billion reasons why it is a challenge," the California governor said.
California's bid to extend coverage to undocumented immigrants in the state has been seen as a rejection of the Trump administration's ongoing crackdown on immigration.
"Symbolically, this is quite significant. This would be establishing California as a counter to federal policies, both around health care and immigration," Larry Levitt, senior vice president for health reform at the Kaiser Family Foundation, told AP.
The bill is likely to face opposition from the White House. The Trump administration has already proposed a public charge rule that would make it difficult for many immigrants to come to the U.S. or receive green cards if they are found to be likely to rely on public benefits, including Medicaid.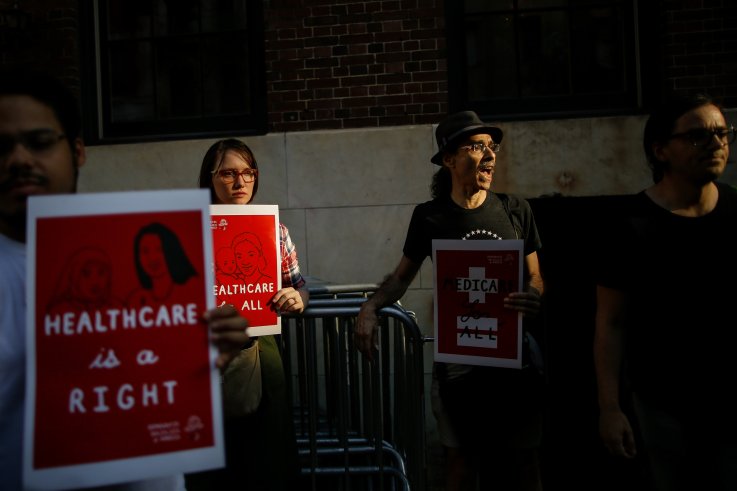 California Wants to Offer Medicaid to Undocumented Immigrants. How Much Would It Cost? – Newsweek